An Interview by music writer and critic Peter Jackson.
'I've always loved music and I've always loved writing,' said Rick Ford when I went to visit him at the remote farmhouse where he lives with his partner Claire and their two dogs in the beautiful wilderness of the Staffordshire Peak District in England. 'It's only recently though that these two great passions have come together. It's like a dam has burst and the songs just keep pouring out.'
Rick's tradition is that of the singer/songwriter and storyteller and his influences can be detected in his songs and his playing but his work possesses a startling sense of originality and his musical influences seem to mesh together with a timelessness that like the blues, folk and country music that he loves goes beyond fashion into that hard gut-bucket reality that forms the currency of our lives. His songs are steeped in the wild beauty of the hills, valleys and moorlands of his beloved Peak District countryside; at once simple, raw and earthy and yet at the same time filled with an indefinable sense of poignancy and yearning. Though some of Rick's songs are heartbreaking in their unflinching honesty, the insight he brings into his portrayal of the human condition is riveting.
I asked Rick what his musical influences are.
'It's hard,' he replied; 'because over the years I have listened to so much great music from so many amazing musicians that pinning down just a few is like trying to define your life in a sentence. I remember hearing Bill Haley and Brenda Lee in school and being rocked back on my feet - it was like a thunderbolt had hit me,' he said. 'I suppose like many people of my generation, I revered Dylan and still do,' he said; 'I still rate the first Dylan record as being among the very best albums in my collection. When I was 17 I remember buying a Big Bill Broonzy record and through that got into the blues of people like Robert Johnson, Bukka White, Son House, Skip James, Robert Pete Williams, John Lee Hooker, Muddy Waters and Howlin' Wolf.
It wasn't until later that I "discovered" country music from the early country of Jimmie Rodgers, Lefty Frizzell and Hank Williams to the 'new country' of people like Townes van Zandt, Steve Earle, Emmylou Harris, Richard Buckner, A.J. Roach and Marie Gauthier. Tom Waits is a master - a true original, and a towering figure both on record and live. Springsteen has kept the flame alive - always inspirational, incredibly powerful and sincere, I feel like I've grown up with him and he's never let me down. At one time, when I was going through a particularly bad patch, I believe he saved my life. All these people and many others including Richard Thompson, Al Green, Ann Peebles, Robert Ward. they helped to make sense of the bad times and made the good times better.'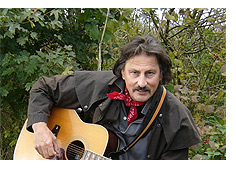 Each of the twelve songs on Rick's C.D.
Smoke and Mirrors
possesses something vital and original about it and yet they all bear his unmistakeable badge. True stories such as Beyond the Clouds and A Song for Muktar, a harrowing song about a 14 year old boy who fought with the warlords in Somalia, sit alongside slices of his own life such as Far Side of Heaven and May Life Treat You.
'How would you categorise your music?' I asked him. 'Do you think it can be classed as folk, blues, country, Americana or something else?'
'I don't know - I don't believe in categories anyway and I don't think it matters. I suppose all the music I've loved through the years comes through in the stuff that I do but hopefully in the end it's just 'my' music. What's really important to me is honesty and truth and trying to create songs that matter. In the end I have to be as certain as I can be that the music I make is the kind of music that I would want to listen to.'
Rick plays and sings in the pubs and clubs around North Staffordshire in the U.K., either on his own or with various other musicians including Kelly Poynton on accompanying vocals, Tim Mundy on mandolin and Ian Woolley on dobro, all of whom appear on Rick's new CD, 'Smoke and Mirrors.' Rick also plays and sings in the band Model Behaviour along with Kelly and Simon Watkinson on lead guitar. 'The live music scene around here is incredible,' Rick told me, 'with music available on most nights of the week in the pubs and clubs, and so much amazing talent. And they're great people; warm, generous and fun.'
One of the strongest characteristics of Rick's songs are his words and when he told me that he is an author and had written three internationally best-selling novels I understood why his lyrics are so important to him and why they play such a crucial part in his songs.
'My first book was a fantasy novel called Quest for the Faradawn and I was lucky in finding an editor who believed in what I was doing. He loved my work and with his support the book was very successful and was published in America, Japan, Germany, Spain and Italy. I then extended the concept into a trilogy and these were also well received; Melvaig's Vision being entered for the Booker Prize and The Children of Ashgaroth entering the Sunday Times bestseller list at number 8. I then had to decide whether to give up my full time career and risk writing as a full-time job but decided that it was too risky. And then the 'day job' took over and there was no time left for my writing. The heady days of my success as a writer now seem long ago and it's almost as if someone else wrote them; but it was a great experience and though the earlier books are now out of print, I recently sent off my new novel to the publishers and am waiting to see what happens.'
Rick's farmhouse lies at the end of a long track and on my way to see him I had driven through a beautiful wood. He asked me if I'd like to walk round it.
'Apart from music and writing, nature is my other love,' he told me as we strolled amongst the trees with his dogs and sat down by a large pond. 'When I first came to live here there were very few trees and I set about creating a wood. I like to think now that our land is a refuge for wildlife and I must admit to a lot of satisfaction at what we've created up here.'
It was late when we got back from our walk and Rick and Claire asked me to stay for a meal. 'It'll be vegetarian,' he said. 'I've not eaten meat for 35 years. And I detest hunting and shooting; I find the idea of killing animals completely abhorrent.'
It was night by the time I finally left Rick's and as I made my way back down the track I put Smoke and Mirrors on the CD player. The songs drifted out into the darkness and now that I'd met and talked to him and seen the man in his home, I felt the force of his music with a new understanding; Rick's life is contained in his songs but they are also in many cases a reflection of all our lives.
Peter Jackson
Music Writer and Critic